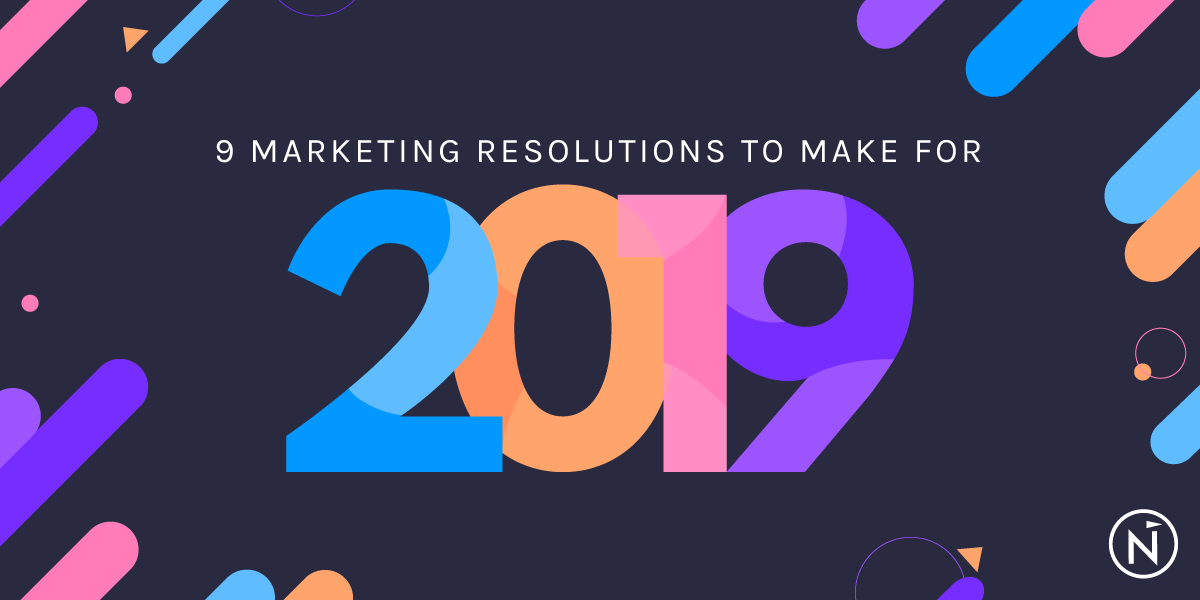 It's no shocker that the New Year is the time of resolutions.
Instead of trying to spend more time on the treadmill or vowing to eat more broccoli, try these 9 Marketing Resolutions for 2019 that'll help kick your team and your work into high gear in the new year.
1: Get Your Data In Order
Chances are that your data may have gotten a little bit messy throughout the year. Getting your data in order is a great first step towards a fresh start for the year.
Solidify your file and campaign naming conventions.
Look through your Website Visitors to track down page redirects and 404 errors.
Start (or keep) tracking your UTM.
Ensure that your integrations are working correctly and that any custom code is up-to date.
Check the validity of your email links in nurture campaigns you haven't touched in a while.
2: Focus On The Customer
It's common to fall into a pattern of listening to your team (a good thing) and forgetting to listen to your customer (a bad thing). The New Year is a perfect time to recommit yourself to providing the best customer experience possible.
An example? Both our Marketing Automation 101 Whitepaper and our Marketing Automation Implementation Guide were both created because we genuinely trying to create resources that would aide our Customer Success team and our customers to create clarity around Marketing Automation and how to implement it.
And guess what? They're some of our best performing assets.If you aren't directly in contact with your customers and clients, talk to your customer support team.
3: Organize Your Space
Clutter is proven to decrease your productivity — and when we say clutter, we mean both physical and digital clutter. Know what that means? It's time to organize your life.

Some good places to start include:
Clear your computer desktop, your Documents folder and your Google Drive.
Scrub your lists and segments.
Clear off your desk.
TIP: Don't delete things you'll want later for tracking purposes!
4: Get Serious About Time Management
The beginning of the year marks the peak occasion for motivation and productivity and is a unsurprisingly fantastic time to try out a new time management system.
Need some inspiration? Our Marketing Director, Henrik, uses the Getting Things Done method. I track 20 minute time increments in my bullet journal (by the way, hi, I'm Sarah). Our Customer Success team sends themselves Slack reminders for small but time-sensitive tasks.
In addition to all that, both our marketing and development teams employ agile methodologies to get things done.
Most of these things take time and (at least some) effort to implement, it's true. But if you start now, you'll start seeing real improvements come Q2.
5: Stop Paying For Things You Don't Use
The general underlying message of this is to stop wasting money but really, how many dollars a month go to tools we don't use? Even more than that, how many unused hours of technical support do we waste every year, hours of support that could help us be better and more impactful marketers?
Seriously! Stop wasting your precious support hours or platform access. If you're paying for it, use it or ditch it.
Just a note — Net-Results actually offers free support included in your subscription, unlike a lot of our competitors who charge extra for premium support contracts…
Net-Results customers can always schedule time with the CS team using this calendar.
6: Assess Your Team
To be clear, this doesn't just mean fires and hires.
Perform your yearly reviews and check in with your team about how they felt their year went. Look back at where your team thrived and where they struggled, then consider what you can do to help them grow in each area.
While you're at it, assess yourself. Which tasks proved to be a time-suck this year and where would you rather be spending that time? What did you struggle with the most and where can you delegate or ask for help?
7: Push For Customer (and Employee!) Advocacy
Advocacy is often overlooked in sales-driven organizations. Marketers and salespeople focus on the top of the funnel, trying to push people into the position to make a purchasing decision.
But what happens after the purchasing decision is made? Is the marketing team still in touch with the new customer? Are communicating with your customer after they're done talking to sales and before they've become a churn risk?
Communicate with all teams involved in the customer journey (for us, that's Marketing, Sales, and Customer Success) and then consider what types of advocacy make sense for your business.
Is it more beneficial for your business if customers leave you reviews on popular review sites or if they post about you on social media? How can you ensure that customers know that you want them to complete these actions?
In addition to attracting new business and attracting new talent, employee advocacy also contributes to the company culture. Pushing for employee advocacy can help your marketing, sales, and recruiting teams. Are you a large enough organization that you could get an internal employee hashtag started? (We thought that this example from Sprinklr was pretty darn cool.)
Or maybe employee advocacy looks means creating a "Share" slack channel where everyone is notified when you post a new blog post.
The possibilities are endless and 2019 is a great time to start a new advocacy system.
8: Get Back To Branding
Did you know that 90% of information sent to the brain is visual? If you've been a little lax with your visual identity, now's the time to get back on the horse and stick to your standards.
We've seen it time and time again. The employees who put the standards in place leave and then new employees start and suddenly, branding falls by the wayside. Or maybe you wanted to experiment with a fun font and now you're using it in all your collateral. Perhaps you added an extra neutral to your color palette and put it on all of your landing pages.
If you're feeling crowded with the variety in the visual identity, a good place to start is to narrow your fonts and colors back down and instead of adding new fonts and colors, consider some cool, new ways that you can utilize the existing ones in your digital assets.
If you've been contemplating a whole new visual identity all together, take the plunge on a new logo and start the vetting process for a new designer or agency hire.
9: Commit To Content
Content is king, right? Commit yourself to creating quality content in 2019.

We talked about how you should refocus in on your customers wants and desires and even for content, that's a great place to start. What content would you like to offer your customers that would help make their lives easier? What materials and collateral would help your teams better support your customer?

How's your content calendar looking? Have you planned your blog posts and editorial calendar for Q1? Have any cool infographics in the works? Whitepapers? Video content?
That's all, folks! 9 practical ways you can start improving your marketing and your organization in 2019.
Which one are you committed to? Let us know in the comments!