Welcome back to the Net-Results blog for some more platform updates! The team has been working hard to bring you new functionality and bug fixes.
P.S. If you missed our last platform updates, you can check them out here.
New Spam Reporting on the Campaign Performance Dashboard
View the number of spam reports for a given campaign
To provide additional information on the effectiveness of your campaigns, for any emails sent you can now see a new spam reports count and percentage for that campaign. This shows you the number of times that your email was reported as spam. This new Spam Reports metric can be found on the campaign performance dashboard.
Pro Tip:

If you have multiple branches of a campaign, for any branch that you sent an email, you can click on that branch to see the number of Spam Reports for that branch.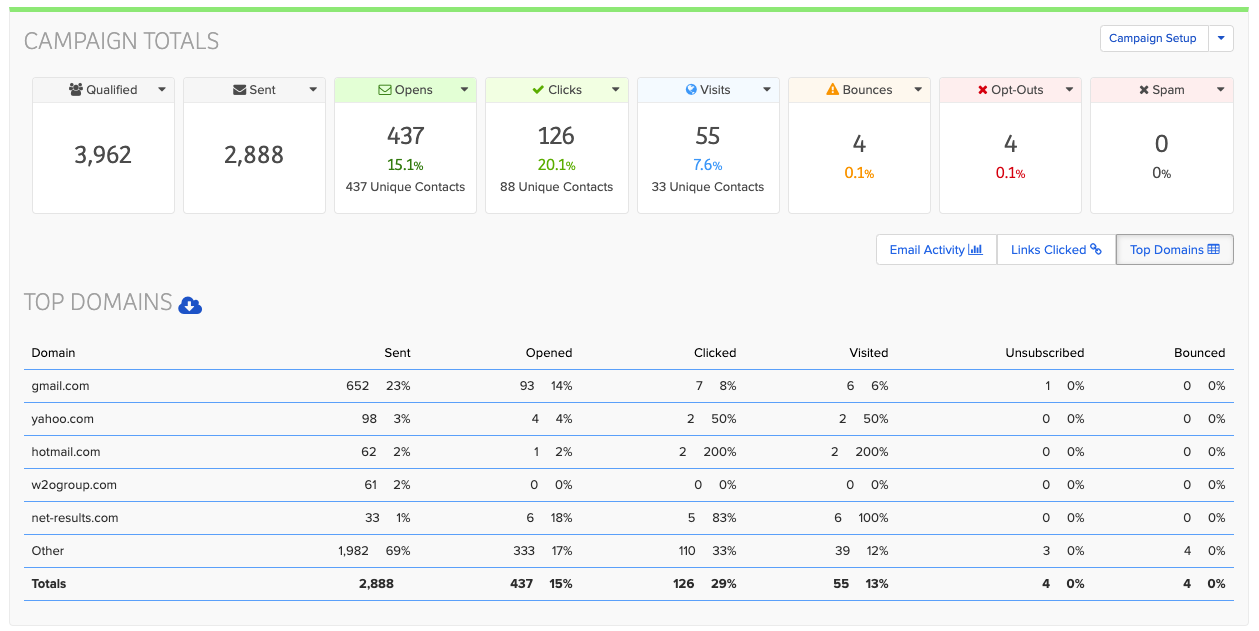 Download Campaign Spam Reports as a CSV
With the addition of Spam Reports, you can also download a CSV file for this campaign of the spam reports. This CSV includes the campaign name as well as the information of all of the contacts that reported your email as spam.
To download a CSV of the Spam Reports, click the drop down arrow next to Spam Reports and select Download CSV.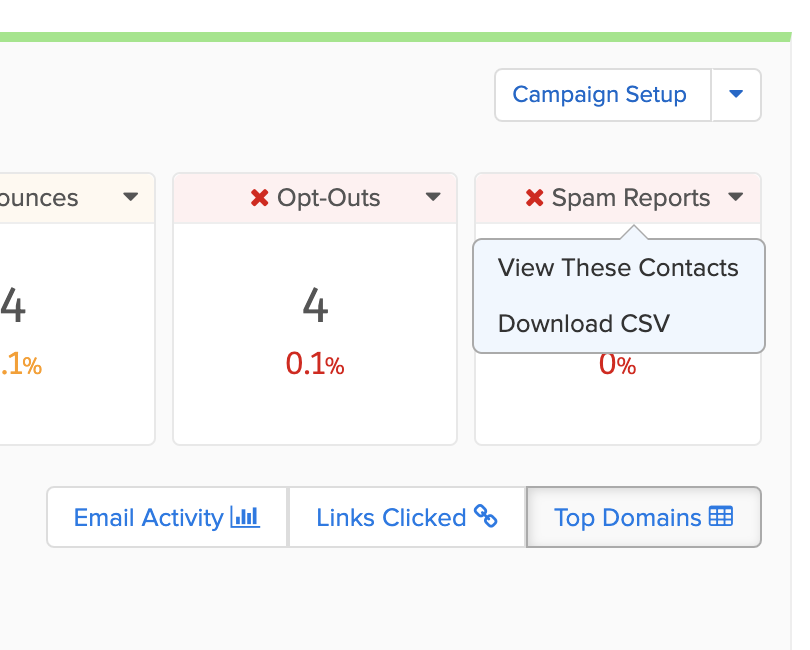 View All Contacts that Reported Spam
Also available is the option to quickly and easily view the contacts that reported spam for this campaign. To do so, click the View All Contacts option from the dropdown in the Spam Reports box. This will take you to the My Contacts page with the campaign and list of contacts filtered.
---
Improved Bot Filtering for Email Visit Reporting
When it comes to email reporting, it is important to stay ahead of anything that can affect your email statistics. That is why we just released an improved version of our bot filtering for email visits.
The update includes accounting for bots using virtual private networks (VPNs) that change the IP address that it was coming from. This is an improvement over the last iteration in that this update monitors the visits and flags frequent visits from the same IP. If there are visits found, they are removed from campaign statistics before it is ever reported.
This feature is not added to your account by default, but is included in your all-inclusive pricing. If you are interested in turning this on for your instance, contact your customer success manager at support@net-results.io.
---
Updated Report Email Design
We have updated the look and feel of our report emails to be much more user friendly. This new design improves readability and accessibility, and we are excited that it includes our new branding! The new designs will be included on any new report emails that are created.
---
Twilio Integration Update!
In our last platform update, we announced our progress with an integration with Twilio. This integration expands the capabilities of campaigns significantly with the ability to send a text/SMS message directly from a campaign.
Since our last update we have completed the ability to create and manage your texts/SMS's, as well as added the ability to send a text/SMS as a campaign action. We are currently in testing and will be making an announcement about this after the holidays so stay tuned!
---
Bugs Fixed
A bug was reported that when setting an autoresponder as a form action, if there is no Existing Lead Owner set, you could not save the form action. This bug has been resolved.
A bug was reported on the GoTo Webinar integration which limited syncing of the first 200 contacts. This issue has been resolved.
---
Thanks for stopping by! Don't forget to subscribe to the blog below to get the latest Net-Results platform updates, industry news, and marketing tips directly to your inbox.