Everyone knows marketing is used to generate revenue for a brand/company, but with all the time and money being spent on various efforts, it can be difficult to know if you're truly achieving positive ROI (return on investment).
Because, let's face it, digital marketing efforts are only as good as their results.
If you're scratching your head and wondering how your marketing team can increase the ROI of your digital marketing efforts, look no further than our list of 5 Tips to Increase your ROI in B2B Digital Marketing!
Looking to find the ROI of Marketing Automation? Click here to download our free ROI of Marketing Automation for CEOs whitepaper!
1. Prove your worth and value
Two words: inbound marketing.
Inbound marketing focuses on creating fantastic content that pulls prospective customers in. We're talking e-newsletters, blog posts, organic social media content, whitepapers, etc.
Inbound marketing works to increase trust and appreciation between the business and the customer. It helps to prove honesty and value to the customer, all while working to highlight the benefits of the product.
B2B digital marketers are guaranteed to achieve positive ROI with effective, thoughtful inbound marketing strategies and practices.
Gone are the days of cold-calling, radio, and otherwise "traditional" forms of advertising. Invest in inbound marketing practices and reap the benefits and rewards of a solid digital marketing strategy that garners great ROI.
2. Stick the (content) landing
This point couples fantastically with point #1.
In fact, if you're focusing on inbound digital marketing strategies (as recommended), you must make content your bread and butter.
Need advice on where to turn? Check out our blog posts on how to create awesome social media content and why content marketing is important for B2B businesses.
In order to achieve positive ROI from your digital marketing efforts, it's important to make informative content that works to educate, inform, and entertain your audience.
It's not longer, "sell, sell, sell!"—you must "wine and dine" your prospective customers with delicious inbound marketing content.
3.
Focus on the customer's journey
The journey of a B2B prospective customer can be a rough one. It can be very lonely (taking place only online, for the most part) and many companies have made the process cold and unwelcoming.
It is your job to change that!
Here's our hot-take: Your ROI will increase exponentially if you work to humanize and personalize your customer journey.
Need help doing so? We've got your back!
Download our free Customer Journey Worksheets! These worksheets will help you map your customer journey and gain a better understanding of what your leads are looking for.
Better yet, you'll be able to suss out opportunities for more personal touches throughout their journey. Win win!
4. Don't be afraid to pivot!
No one likes to admit when their ideas or action-plans aren't working—but this step is crucial for positive ROI.
It's important to keep track of valuable and necessary KPIs for all of your digital marketing efforts. If you notice that you're continuously failing to reach these KPIs, pivot ASAP.
Take a gander at our list of 5 Important KPIs for Digital Marketing!
Don't waste time and money on efforts that are failing to move the needle. Ditch them, re-evaluate, and formulate a better plan. There's no shame in admitting something didn't work.
Prepare to fail (and fail often)—that's experimentation, folks! Just be ready to pivot and try something new. It's all part of the game.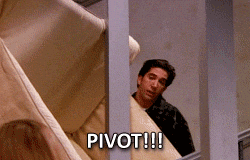 5. Add marketing automation
Hey, we're a marketing automation company, what can you expect?
But in all seriousness, if you're looking to gain maximum positive ROI from your digital marketing efforts, it's in your best interest to invest in marketing automation software.
Why? Well…we'll let some of our previous blog posts do the explaining:
---
It's difficult to be a digital marketer, and sometimes, it can feel downright impossible to increase the ROI of your efforts.
Hopefully these five tips will help you and your team adjust accordingly. Should you need further assistance with your digital marketing (or marketing automation) efforts, we are always happy to help!
Schedule a 20-minute chat with us and let us help you achieve success!
Happy Marketing,
Lexie Robbins
Digital Marketing Specialist