We are kicking off 2020 with a bang with new features and exciting things happening at Net-Results.
In addition, we have been making significant improvements to our team, platform, and process and are very optimistic about what we can accomplish this year.
P.S. If you missed our last platform updates, you can check them out here.
Over 600 Google Fonts now available in the Drag & Drop Email Builder!
Hundreds of new fonts now available to use in emails.
For our first major release of the year, we are announcing two new features, one of which is you can now use over 600 Google Fonts in the Drag & Drop Email Builder! This new feature will give you the ability to design your emails the way that you want. Match your brand and make your emails unique to you.
Pro Tip:

Using custom fonts, especially web fonts can have differing success depending on your contact's email client. If you do choose to use a Google Font and your contact's email client does not support it, the font will fall back to Roboto or Ariel automatically.

Read more and become an expert:
https://litmus.com/blog/the-ultimate-guide-to-web-fonts
How to Select a Google Font for Text in Your Email
Adding a Google Font to your emails is simple with Google fonts integrated into the email builder. To get started, open a new or existing email in the Drag & Drop Email Builder.
Hover over the text you would like to edit and click the grey edit icon to open the editor pane. Once the editor is open, highlight the text and select "GoogleWebFonts" from the Fonts dropdown.
Once you select GoogleWebFonts, a new window will open with a drop-down of the available fonts. You can select from the list or start typing the font name to select the font that you would like to use.
Click "Ok" to apply the font to the editor and make sure to click "Save & Close" to ensure your changes take effect.
---
Twilio Integration: Send SMS as a Campaign Action
Reach your customers in a new way by sending them a text message.
When it comes to conversion of your campaigns, sending a well-timed SMS message can be extremely impactful. That is now possible without new integration with Twilio!
With a Twilio account, you can connect to your Net-Results account and send an SMS message directly through a campaign.
To do so, first create the message that you would like to send. This can be found on a new page called My SMS Messages under the Marketing Center. Click "New SMS Message" at the top of the page to get started.
Once the Create New page opens, you can create a new message by first adding the message name. Note, that this is only for your use and will not be sent or visible to your contacts.
Add the message text that you want to send to contacts in the message section and click "Save".
You will notice that a new option will appear to send a test once the message has been saved. This is a single message to any number so you can see what your contacts will receive. (Note: Message rates for sending a test message do apply. For pricing, take a look at Twilio's Pricing page.)
The next step once you have your message created is to add it to a new or existing nurture campaign.
Once the campaign is saved and participants have been added, you can then add Send SMS as a campaign action to a branch. Drag the Send SMS action from the right options panel onto the campaign. Click the icon next to the label to select which message you would like to send. In this case, we only have one. If multiple messages are created, then they would all show up in the list.
It is easy as that! Once your messages are created and added to a campaign, activate the campaign and engage your contact list!
Twilio Integration in Limited-Access Beta
We are currently limiting access to the Twilio Integration to a limited beta so you may not see these options in your account yet. If you would like to have early access to the Twilio integration, send an email to your Customer Success Manager and they will help you get started.
---
Recently Added in January
In addition to the new features above, we have been consistently making changes to the platform throughout the month. We post these in the Stream in your account as they are available so be on the lookout for additional upcoming changes until our new platform update.
New CRM Integration Contact Field: Salesforce Account Opportunity Name
There is now a new custom field for the Salesforce integration called Salesforce Account Opportunity Name. This is in addition to the existing field of Salesforce Opportunity Name which is for the contact. You can segment on this field and add it as a condition in the segment builder.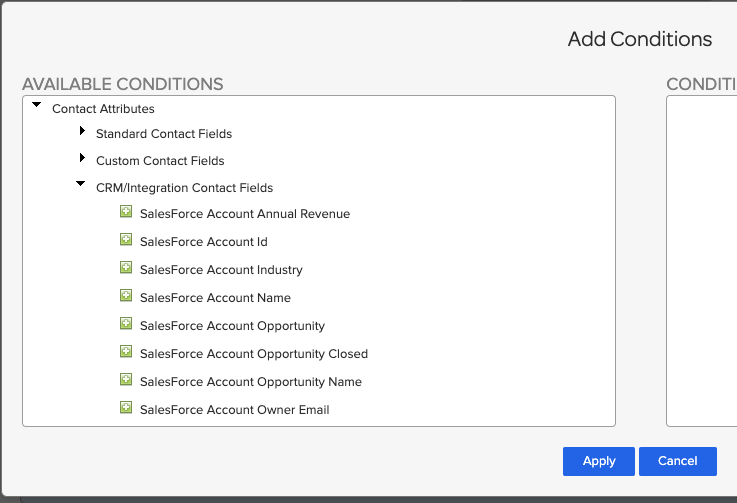 Improvements to our Tracking Beacon
New Same-Site Cookie Attribute // SameSite=Strict;
In an effort to increase security on with our cookies and tracking beacon, we have implemented a new cookie attribute of "SameSite=Strict;". This prevents Cross-site Request Forgery or CSRF. There is no action that you need to take with this change. The new cookie has already been added to your tracking beacon.
Additional Cleanup Items
We have also cleaned up some smaller items in the app including renaming the 'Custom Integration/App' page to 'OAuth Clients' to more accurately represent that page and fixed a broken link on the campaign setup page to the Net-Results Knowledgebase for easier access to in-context help.
---
Bugs Fixed
A bug was reported in the Outlook Plugin with syncing to Salesforce. This has been resolved with an improvement to the Outlook plugin workflow to leverage the Salesforce assignments queues.
A bug was reported on the GoToWebinar integration. This has been resolved with an improvement in the synchronization between the GoToWebinar integration and Net-Results.
---
Thanks for stopping by! Don't forget to subscribe to the blog below to get the latest Net-Results platform updates, industry news, and marketing tips directly to your inbox.