Email marketing is one of our most effective tools as digital marketers. Its efficacy is unparalleled; yet, now more than ever, it can be difficult to decide what to do (or not do!) for a successful email marketing campaign.
What's trending and what's outdated? What moves the needle and what doesn't? We ask ourselves these questions every single day.
Now, don't get us wrong, the internet can be remarkably helpful when it comes to answering most of these questions, but it can also put our busy brains into information overdrive. Let's settle the debate once and for all and discuss the do's and don'ts for successful email marketing campaigns!
Do…
1. Make your content scannable
This one may seem like a "no-brainer" but you'd be shocked to learn how many messy, long, and illegible emails come through our inbox.
Let's face it: your customers or prospects are just as busy as you and they do not have time to read through your entire email—give them a break and make your email content scannable.
Your email recipients should not have to read each and every word of your email to get the idea and click your CTA.
Use images, bulleted lists, text size, and buttons to your advantage! Make life (and email communications) easier on your prospects by allowing for quick reads and scanning.
2. Make your emails mobile friendly
Yeah, yeah, we sound like a broken record at this point, but we're consistently surprised to see the lack of initiative and detail given to mobile-friendly email marketing campaigns.
Desktop formatting is important, don't get us wrong, but with each year, its significance is falling away. More and more people are using their mobile devices to read their email and if your communications are not compatible with their device, guess what?
They won't be interested.
Emails that aren't mobile-friendly are guaranteed to raise your bounce rate due to poor user experience. Don't let that happen to you and your business.
Need more advice on email deliverability? Check out our free resource: Net-Results Email Deliverability Guide.
3.
A/B test early and often
If you're a Net-Results customer, this should be easy. If you're not…well, why not? Schedule a 20-minute chat with us today! Just kidding—kind of.
A/B testing is a great way to learn what content appeals most to your email recipients.
Whether it's testing out your dynamic email content or your subject lines, it's important to experiment with your email marketing content and campaigns.
Experimentation is all part of the process and as marketers, we cannot sleep on this step. Experiment early and often with your email content to gain lasting results.
4. Measure your performance
This point goes hand-in-hand with experimentation.
Check out our blog post: 5 Important KPIs for Digital Marketing to better understand what and how to measure your performance!
Your email marketing campaigns are only as good as the ROI they provide. What's key to understanding your email campaign's ROI and efficacy?
Data.
The reporting capabilities in the Net-Results platform allow you to see the key metrics you and your team need to assess the success (poetry) of your email campaigns. Find out what metrics mean the most to you and your definition of success and stick to them.
5. Balance your content
When's the last time you scrolled through an email and thought to yourself: "Just get to the @%Q#$ point already!"?
For me personally, that instance occurs every day (and sometimes multiple times a day!).
What I mean by "balance your content" is balance your use of text and images.
Yes, text matters to you and your team, but try to keep it minimal. Leave your verbose, SEO-laden copy to blog posts (am I right?). Emails should be about short, effective language and bright, story-telling graphics.
Unlike this blog post (*wink*), keep the copy short and sweet when it comes to email marketing. Allow your graphics and images to help sell your CTA.
Don't…
1. Overload with CTAs
It can be tempting, but be sure to ONLY pick one (max 2) CTAs for one email.
It's not cool to bombard your email recipients with too many calls to action. If your emails are full of "Buy now!" or "Click here!" and "Read this!," your poor readers will be feeling like: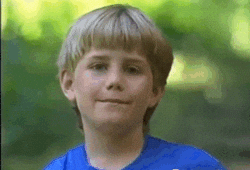 2. Ignore your subject lines
We've said it before and we'll say it again: subject lines are your first impression! Read up on best subject line practices with our blog post: 5 Ways to Make Your Subject Lines Shine.
Subject lines are key for stellar open rates and prolonged email marketing success.
They may seem silly or arbitrary, but there's no denying how important they are for long-term results. Don't skip this step—put the necessary elbow grease and brain power behind a solid subject line strategy!
3. Use fancy text styles
All too often we see email marketing campaigns and emails with complex, hard-to-read text styles and fonts. In other words, they're not using web-safe fonts.
This is a detrimental to your long-term email marketing campaign strategy.
When it comes to email fonts, be sure to pick one that's easy to read and stick with it. Changing up font style, color, and/or size does not catch your reader's eye—it pushes them and their business away!
Stick with the classics and keep it clean (content and style-wise).
4. Send out thoughtless emails for the sake of consistency
This may be controversial, but from what we've observed, email recipients are keen to notice email marketing BS.
If your email campaigns won't be providing long-term and/or immediate value to your clients and prospects, don't send them. You might feel like you have to send out certain emails at the exact same time every single week, but if the content you're putting out is more about quantity rather than quality, you're causing some serious irreparable damage.
Put out the information that your audience needs and has asked for—don't waste their time with meaningless drivel for the sake of consistency. Chances are your recipients receive so much email, they won't even notice if it's "on time" or "on schedule."
Make it important and make it matter—don't waste their (and your!) precious time.
5. Avoid list hygiene
What the heck does that mean?
Don't leave the quality of your list to the powers that be. Data scrubbing and "list cleaning" are both valuable uses of your time—be sure to take care of your lists, update them routinely, and clean them on a consistent basis.
Poor list-keeping habits lead to emails falling on deaf (rather, uninterested) ears and drastically increases your bounce rate, open rate, click-through rate, and more.
List cleaning is essential for your email marketing efforts—don't sabotage your initiatives before they've had a chance to show their efficacy and worth.
---
Email marketing is a vital tool for us digital marketers—make sure you're up-to-date with all the latest do's and don'ts for this specific marketing medium.
Should you ever be in need of more helpful email marketing tips & tricks, don't be shy—schedule a free 20-minute chat with us! We're always happy to hear from you.
Happy Marketing,
Lexie Robbins
Digital Marketing Specialist