Your domain reputation is akin to a credit score for your sending email domain — it increases the deliverability of your emails and allows you to connect with your intended audience.
Your domain has to have a good reputation in order to increase the chances of reaching a user's inbox, but building and improving a domain's reputation takes time and know-how!
That's why we're breaking down the essential steps and tips you'll need to improve your domain reputation thus improving your overall email deliverability.
P.S. If you haven't checked your domain reputation score in awhile, click here for a list of great resources you can use to do so!
1. Slow down with those emails
You want to increase your domain's reputation and improve your email deliverability. So naturally, you decide to send as many fantastic, wonderful emails as possible to accomplish these goals quickly and efficiently.
That makes sense, right?
Well, unfortunately, never has the phrase "slow and steady wins the race" been more applicable.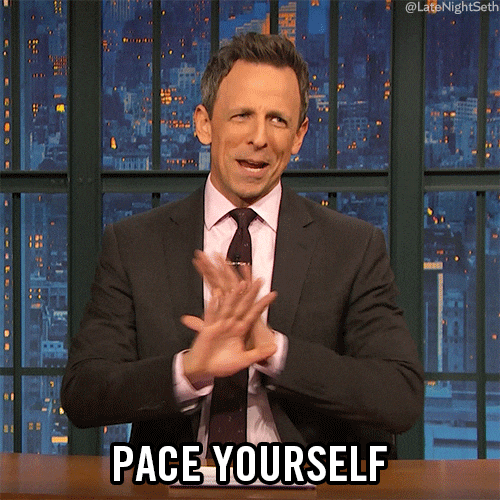 You heard Seth — pace yourself!
If you are experiencing deliverability issues with your emails, you need to slow down on your campaigns until your domain reputation beings to show improvement.
If you're struggling with your domain reputation, you don't want to be sending emails to a lot of people.
Instead, only send to those who are currently highly engaged with your emails.
Sending emails only to these highly engaged individuals will help email servers see high open and click-through rates which is a strong indicator that your overall domain reputation is improving.
Remember, patience is required (and necessary) to improve your overall domain reputation.
2. Use a double opt-in
Quality vs. quantity — the age-old debate. In this instance, when we want to improve a domain's reputation and email deliverability, it's important to focus on quality.
Using double opt-in when someone registers to receive your email content will help to ensure they actually want what you're offering.
This helps to decrease your unsubscribe rates which is essential for enhancing and improving your domain reputation.
A double opt-in is also helpful to eliminate unmotivated prospects, thus improving your likelihood of making a sale in the future. Win-win!
3. Go easy on the exclamation marks…
This is just an overall copy tip, too!
You want to avoid transactional-sounding emails at all costs during this stage (this isn't permanent — we just want to improve your overall domain reputation before forging ahead).
Transactional emails are often flagged as spam and they absolutely ruin your domain reputation.
When in doubt, you want to avoid "BUY NOW!"-type messaging (i.e. lots of exclamation points, all-caps copy, heavy transactional phrasing/phrases) and make it more conversational and engaging.
Postmark has a great blog post all about transactional email best practices if you're looking to improve in this area!
4. Read our Email Deliverability Guide
It's free and available to everyone (if we were Oprah, we'd be standing here like, "YOU get an Email Deliverability Guide, and YOU get an Email Deliverability Guide — just visualize that).
If you're looking to dramatically improve your overall domain reputation and email deliverability, check out our Email Deliverability Guide and download yours here.
It has all the information you've ever wanted about improving your domain reputation and email deliverability.
Best of all, it includes specific ways to increase the number of emails that reach your target's inboxes, Net-Results tried-and-true best practices, and it addresses common mistakes we see.
5. Check the quality of your email lists
It's almost spring and there's no better time to tackle that spring cleaning — let's start with your email lists!
To get started, you will want to delete/remove (decide which action you'll want to take beforehand) the following:
Invalid email addresses
Misspelled emails
Spam traps
Unengaged emails/contacts (this will look different to everyone — some delete those who haven't opened an email in three months, while other decide different factors that associate with unengaged contacts. There's no right way to do this, just be sure to remain consistent with whatever you decide to do).
You'll likely be left with much smaller lists, but the quality will infinitely improve, and with it, so too will your domain reputation and your email deliverability!
Your marketing efforts will go much further once you decide to clean your email lists. And remember — this isn't a "one and done" kind of thing! Make an effort to clean your lists at least twice a year (set a reminder in your calendar now).
---
Repairing a damaged domain reputation is not for the faint of heart, but with this blog post (along with the linked resources) we feel confident you're well on your way!
And if you need any further assistance when it comes to domain reputation, email deliverability, or marketing automation in general, feel free to reach out and schedule a 20-minute chat with our team. We'd love to connect with you!
Cheers to your success,
Lexie Robbins
Marketing @ Net-Results