The 1st Choice of People Buying Marketing Automation for the 2nd Time
Find out why we're the marketing automation solution that's just right.
The Power of Marketo Meets the Usability of Hubspot
Goldilocks by Net-Results is the result of a dream.
A dream that we could create a solution with the power of an enterprise marketing automation platform and the ease and usability of a consumer app.
A dream that, before now, seemed impossible. But as is the case will all dreams, with dedication and perseverance, even the most 'impossible' feat can be achieved.
Goldilocks is here and it's already changing the lives of digital marketers everywhere. In fact, one customer recently used our Drip Series feature and exclaimed, "This is way easier than building a drip series in Hubspot!" Mission accomplished.
Experience Goldilocks for yourself today.
We work with mid-market companies & divisions of enterprise from all across the globe, such as:
Discover why our customers continue to choose us.
In business since 2003 (we actually started off in web design!), we've been a full-fledged marketing automation company since 2015. In the past seven years, we've achieved notable success on a global scale with mid-market companies and devisions of enterprise.
But…as with any great company, we started from humble beginnings. 
Our founder and CEO, Michael Ward, is a natural-born builder and entrepreneur. Having taught himself how to build databases and web interfaces, Mike started looking at log files and noticed he could see if somebody had searched for a specific term on Google. With this revelation, he asked himself, "can we tell who's searching on a company level? Can we tell which company searched, how many pages they viewed, and which search terms they used?"
The answer was, of course, yes! Soon enough, Mike started kept on building and began adding email alerts, segment builders, lead scoring, and more.
Soon enough, he had a full-fledged marketing automation platform on his hands — one that hundreds (and ultimately thousands) of customers came to love. 
And the rest, as they say, is history.
"Very intuitive, incredibly easy to implement and a lot of added-value tools, reporting and features that one would normally only expect from one of the larger and more expensive platforms. In fact, compared to other platforms we use (or have used) like Hubspot and Act-On, it is in many ways far superior"
"Net-Results is an excellent marketing automation tool with very powerful segmentation capabilities. Segments can be used to drive analytics, workflows, campaigns, and more. The excellent product is backed up by a team that is responsive, knowledgeable, accessible, and friendly to work with."
"We have worked with Net-Results for years and it has changed the way we communicate with our customers and provides leads to our sales team. Their pricing is great for the capabilities of the platform and the team you have access to. Overall, it is user-friendly for beginners but has complexity for advanced users. The Customer Success team at Net-Results is also exceptional!"
"I have used other leading marketing automation tools out there and they don't even compare to Net-Results. Other tools are incredibly expensive and you have to hire consultants to make major system changes and implement their products. I implemented Net-Results with one support person at Net-Results in a couple of days."
"Apart from the intuitive user interface, outstanding features, and insightful documentation, the best thing about Net-Results is the support and Customer Success team. These guys are very responsible, straight-to-the-point, and friendly. I love Net-Results!"
Top Marketing Automation Platform Features:

Drag & Drop Builders for Email, Forms & Landing Pages
Responsive design is baked in. Gorgeous templates make looking great a breeze.

Dynamic Content for Email
Personalize messaging across your customer journeys and generate more opportunities.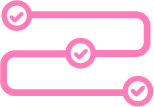 Drip, Nurture, and A/B Test Campaigns
Deploy communication streams quickly and adjust at will.

Industry Leading Segmentation Power
Lose the handcuffs. Leverage behavioral, demographic, and firmographic data without limits.

Battle Tested CRM Integrations
Built-in integrations with Salesforce, Dynamics 365, & SugarCRM.
Exclusive 30 Minute Setup is why G2 Crowd data shows Net-Results delivers the fastest time to ROI.
Flexible Reporting Power
Clear views help you understand what's working and where to focus your efforts.
The Goldilocks Platform
Since the beginning, our primary focus was to create a marketing automation solution that's "just right." Like all good things, this took time, and during that time of discovery, we did extensive research to see what was out there. Here's what we saw:
Robust, impressive platforms with bad user experience. Gorgeous interfaces with wimpy, lackluster features. Most apparent, however, was the overall lack of quality Customer Success teams and efforts. 
This eye-opening discovery period allowed us to create the marketing automation solution that's "just right" for digital marketers like you. With our sleek, intuitive design and state-of-the-art features, we've harnessed the power of Marketo and the usability of Hubspot. 
For good measure, we've also incorporated the best Customer Success team in the industry.
Goldilocks is the marketing automation solution that's just right. Take it for a spin and see for yourself.
Schedule a Demonstration
Speak live with a marketing automation expert about your use case and business goals.
No pressure guaranteed!
High knowledge, low b.s. 
Honesty rather than tactics. We'll tell you if Net-Results is not a good fit for your use case.